It's back and better than ever!
Noodle Flix is a talking head movie utility for Mac OS X. It's the tool you need to convert text to living, speaking movies.
Download
Now available on the Mac App Store!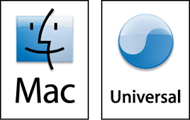 Get Noodle Flix 2.1 at the Mac App Store
Released February 2011
See Noodle Flix in action
Features
Convert text to a talking movie.
Render QuickTime videos in a variety of sizes.
Cast any of the more than two dozen virtual actors.
Select from a variety of included backgrounds or use any other image in your Library to decorate the stage background.
Use an iSight camera to shoot an image for use as the stage background
Tweak settings for the rate, pitch, and modulation of a voice.
Apply effects to stage backgrounds with CoreGraphics, even adding them multiple times for combined effects.
What's new and improved in Noodle Flix 2.1?
Custom Actors: Create your own custom actors from image files or even an iSight camera.
Customize Speech: Tweak speech down to the phoneme level for increased speech clarity or special effects.
New Stage Backgrounds: Over a dozen new stage backgrounds.
What's new and improved in Noodle Flix 2.0?
All new version written in Cocoa for the ultimate in flexibility for future development.
All actors are now included with the application.
New actors: Dagmar and Cathy.
Totally new rendering pipline for improved synchronization.
New rendering settings that target common video dimensions for use in iMovie or on portable devices like iPhone and iPad.
New speech settings for rate, pitch base, pitch modulation, and volume.
Added a setting to the Build Window that closes the window automatically after performing a build.
iSight support for backgrounds
Effect support for stage backgrounds.
System Requirements
Mac OS X 10.5 Leopard, or 10.6 Snow Leopard
Intel Macintosh