PolyPhontics is a sound bank studio for Mac OS X. It has the features you need to create professional quality SF2 and DLS sound banks, which you can use as software instruments in popular audio applications like GarageBand and Logic Studio.
Download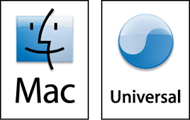 Download PolyPhontics 1.8.7
Released March 2013
Video Tutorials

Learn how to use PolyPhontics with our quick and easy-to-follow video tutorials. Of course, you can also read the documentation in the Help menu of the PolyPhontics application.
Features
Design your own software instruments.
Create DLS and SF2 sound banks in a snap.
Edit sample parameters for tonal control.
Preview sound banks as you edit them.
Import many popular audio file formats.
Extract samples from existing SF2 and DLS files.
Build sound banks with unlimited samples and instruments.
Automate audio file processing for rapid import of multiple files.
What's new and improved in PolyPhontics 1.8.7?
Oops, we goofed! This version deactivates a debugging function that we accidentally left active in last release. Sorry folks!
What's new in Version 1.8.6?
[FIX] Instrument Editor no longer crashes when out of bounds values are entered into the Samples settings of the Instrument Editor
[FIX] The CMD+D keyboard shortcut now works to close the "Don't Save" dialog when closing an unsaved document.
[FIX] Prefs window colored squares now properly respond to a click like their adjacent text labels always have
[CHANGE] When importing samples from a sound bank, if you don't select any samples in the import window, PolyPhontics will import all of the samples.
[NEW] Export samples from the Library to any QuickTime-supported format. The feature is accessible via the Library menu or with a right-click (CMD+click).
What's new in Version 1.8.5?
Improved support for Mac OS X 10.7 Lion and 10.8 Mountain Lion.
What's new in Version 1.8.4?
Added support for Mac OS X 10.7 Lion.
What's new in Version 1.8.3?
Fixed an issue where importing a sample could cause a crash.
What's new in Version 1.8.1?
Added support for Mac OS X 10.6.8.
Fixed issues with SoundFont sample import.
[NEW] The Build Dialog "Target" popup menu has several new options that help direct your sound bank builds to an appropriate destination.
What's new in Version 1.8?
Fixed an issue where sometimes importing samples could cause misbehaviors, including crashes and/or lack of automation. (1.8.3)
Added new entries to the Target popup menu in the Build window making it much easier to use sound banks with GarageBand and Logic (new in 1.8.1)
Added DLS Level 1 support for use with iPad, iPhone, and iPod Touch (requires an FMOD license).
Note: sample settings in DLS1 banks apply only to the first sample in an instrument, except for drum kits where settings are permitted apply to every region/sample in a drum kit.
Added arrow keystrokes for opening disclosure triangles in the Instruments list.
Added Help Tags for library buttons.
Added contextual menu support to the Document Editor.
Build settings are now saved to PolyPhontics documents instead of globally as in the past.
The PolyPhontics Library folder now resides in the user's ApplicationSupport folder.
Added a setting to the Build Window that closes the window automatically after performing a build.
Added a Recent Items menu.
Added a proper proxy icon and popup menu to the document titlebar
Fixed copyright dates for reports.
Fixed an issue where editing an instrument wouldn't mark the document as dirty.
Fixed an issue where opening the sample editor erroneously marked the document as dirty even when no changes had been made.
Addressed an issue where a document might be marked as dirty, but PolyPhontics didn't ask the user to save on close.
Fixed 256x256 icon issues.
Improved handling of string encodings for instrument names and data in the Build window.
Updated error alert window for orphaned samples.
Fixed an issue where importing a MIDI file into the library (or any other unsupported file type) could cause a crash.
Fixed issues with looping in DLS Level 2 output.
Fixed various issues with the loop fields and arrows in the Sample Editor.
Fixed an issue where PolyPhontics could crash when trying to replace an existing sound bank that was busy in another application.
Changed exclusive class to 0-15 min/max to better accomodate the DLS Level 1 spec.
Fixed issues with extracting samples from DLS banks that previously caused a crash (like Apple's built-in gs_instruments.dls bank).
Fixed line endings in email bug reports.
Fixed an issue in the Build window where a document might be marked dirty without having made any changes.
System Requirements
Mac OS X 10.4 Tiger, 10.5 Leopard, 10.6 Snow Leopard, or 10.7 Lion
Intel Macintosh