PolyPhontics GB is a software instrument toolbox made specifically for Apple's GarageBand. Sporting some of the same features as its big brother, PolyPhontics, PolyPhontics GB gives you the tools that you need to create software instruments for use in GarageBand compositions.
What's new in PolyPhontics GB 1.4.3?
Fixed an issue where importing a sample could cause a crash.(1.4.3)
Support for Mac OS X 10.7 Lion
Improved SoundFont sample import.
What's new in PolyPhontics GB 1.4?
All new interface that more closely resembles and functions like PolyPhontics.
Improved stability, Recent Items menu, new build settings, new preference settings, exclusive class in sample editor, and over a dozen additional new features!
Download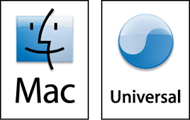 Download PolyPhontics GB 1.4.3
January 2012
Features
Design your own software instruments for GarageBand.
Create SF2 sound banks in a snap.
Edit sample parameters for tonal control.
Preview a sound bank as you edit it.
Import many popular audio file formats.
Extract samples from existing SF2 files.
System Requirements
Mac OS X 10.4 Tiger, 10.5 Leopard, 10.6 Snow Leopard, or 10.7 Lion
Intel Macintosh